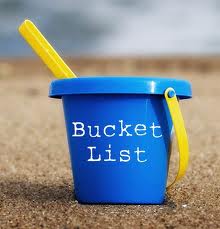 What's more fun than brainstorming about all the cool things you dream about? That's why I loved creating my bucket list. In addition, it's also a great motivation to go out there and turn a wish into an actual experience!
My bucket list is continuously being updated as items are achieved and new ideas come up. Some of the completed items are linked to a story, just click on the link to read about it. The links to the scheduled items will take you to a page where you can read a general summary of the bucket list item.
If you have a great idea for a trip or you've been to an amazing place, please share in the comment box! I'm always looking for new places to explore and I would love to hear about your favorite adventure!
My Bucket List
Completed
Scheduled for 2013
Not scheduled yet
Safari in South Africa
Surfing in the Gold Coast
Road trip from Mexico to Colombia
Road trip from Santiago de Chile to Mendoza
Skiing in Whistler
Inca Trail to Machu Picchu
Visit Suriname
Island hop the South Pacific
Diving in Palau
Hiking in Yellowstone Park
Descend Yungas Road by Mountain Bike
Visit the Grand Canyon
Diving in the Maldives
Hiking in the Amazon
Hiking in Patagonia
Go from east to west diomede island
Northern Light in Norway
Travel on a cargo ship
Galapagos Islands
What is on your bucket list? Share in the comment box below!
22 February 2013