My challenge for 2015 is to publish 10 video courses on Udemy and make $10,000 by January 1st 2016. Here's an overview of my courses.
You can look over my shoulder and see how I'm doing so far by following my Udemy Challenge 2015 post, where you can find the results, struggles, set-backs and successes as I update it live every month.
My Udemy Courses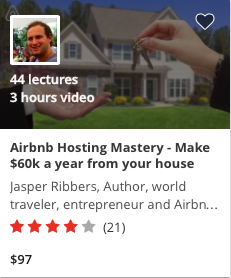 Airbnb Hosting Mastery: Make 60k a Year on Airbnb is the complete guide to Airbnb hosting. It takes you through a step-by-step process to create your listing and start making money. The course comes with life-long membership to my private FB group, my personal guidebook, email templates and my pricing tool.
Click here to buy for just $47 ($50 off!)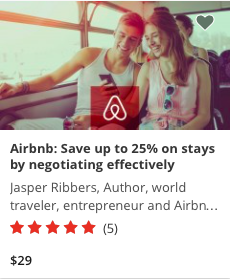 Airbnb: Save up to 25% on stays by negotiating effectively let's you look over my shoulder as I find and book a stay on Airbnb where I save over $100 by negotiating with the host.
It also includes message templates that you can use to speed up the process and a price negotiation sheet that you can use.
Click here to get this course for FREE!
27 April 2015